About Absolute Floor Sanding & Refinishing

We offer a no-nonsense floor sander hire service! We offer professional dust free floor sanders at an affordable cost with professional advice. All of our floor sanders are more then capable of sanding wood floors from parquet, solid, engineered wood, floor boards, decking, work tops, stairs and the list goes on.
We cover London, Surrey, Brighton, Sussex, and Essex including all surrounding areas.
The quality of our service

You can rest assured that no matter your capabilities, a beginner, keen DIY-er, or a professional trades person, we have a "dust free" floor sanding package for you.
What Makes us different?
We are honest!.....
Take the fact or myth rather of  "dust free" floor sanding machines.....there is no such thing! The correct term is "tested for wood dust". All machines will allow some dust to escape during the sanding process, our machines being some of the best around allow very little dust to escape, meaning you can work more safely and claenly. Or take The fact that we care and we take pride in what we do! Our machines are filly maintained and well look after. We correctly adjust the machines and clean them throughly, and give them a PAT test before every hire. That way we can make sure the floor sanding equipment you are hiring, is safe, clean and efficent. As you can see from   page, we have previously worked on many different floor sanding projects, from the domestic home owner who just needs their wood floors sanding and refinishing, to the property developer with a large building to fully revamp. Whatever stage you're at, you'll be able to find inspiration and reassurance by seeing the results of projects we've worked on in the past. You'll also find testimonials from our customers on our website and social media profiles.
Our pricing and free quotations
As you can see from our hire prices page our prices are straight forward and give you a very good idea of much this will all cost. We offer a straight forward service when it comes to hiring professional "dust free" floor sanding and refinishing machines. We pride our selves on being reliable, cost-effectively and on time.
We don't complicate things at Absolute Floor Sander hire & rental, we will let you know exactly how much the cost of the hire will be and depending on your wood floors, and the condition there in we will give you a very good idea of how much abrasives you will use, and how much sealent you will need.
If you have any questions or you'd like to make an enquiry based on your room's measurements, why not get in contact? You can choose to provide details and measurements for your potential project by email, Facebook, Twitter, Instagram or Google+ if you prefer. We are happy to provide a quote however you get in touch. If you would prefer a member of the team to visit your home to provide a FREE on site quotation, we can happily arrange this. Either way, we don't give you a bill at the end you were not expecting! You will know before you start floor sanding exactly how much your entire project will cost.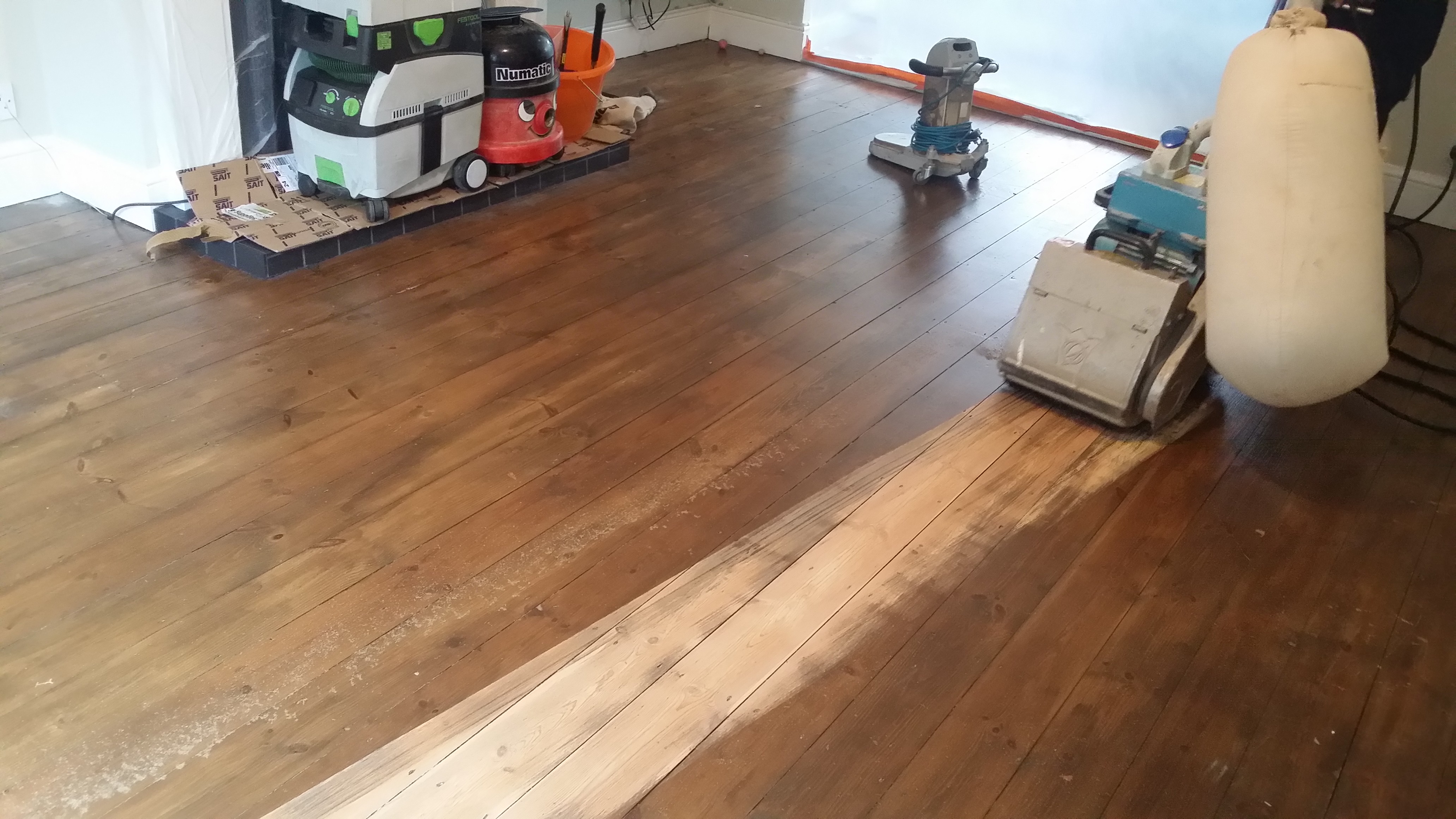 Why choose our team?

Absolute Floor Sanding is an owner-run company, and we don't have someone sitting in "the office" who doesn't have an idea about floor sanding!
All our team are trained and qualified floor sanders with several years of experience each. It's also worth noting that we only use dust-free floor sanding and equipment, including top brands such as Bona, Osmo, Junker's, Morrells, Farrow & Ball and more. This is to help ensure you're getting a convenient and practical service every time, and it's all part of our professional guarantee.
We don't use "show pictures" or stock images from other companies. We are happy with all our wood floor sanding and refinishing projects and pleased to have so many satisfied clients who are happy to share pictures of the results we've achieved. If you look through our gallery or our blog, we're sure you will see a room or area just like the one in your domestic or commercial property.
Hopefully this will help you visualise the end result and get a good understanding of what you can expect from our experts.